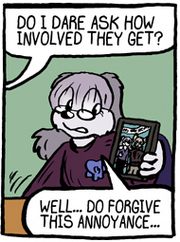 Mrs. Esme Blessure (a french poodle) is the Principal of Poppinstock Academy.
Personality
Edit
She has a taste for gambling and even decorates her office coffee mug with the card suit symbols.She is reputed to be obsessed with the colours lavendar and violet
Social Bubble
Edit
She is married to her husband, Jean-Luc (a Picardy Shepherd).
She uses Candy Nutley as a Fixer.
She has a mutual blackmail pact with Joseph Oven over their jobs.
---
Ad blocker interference detected!
Wikia is a free-to-use site that makes money from advertising. We have a modified experience for viewers using ad blockers

Wikia is not accessible if you've made further modifications. Remove the custom ad blocker rule(s) and the page will load as expected.