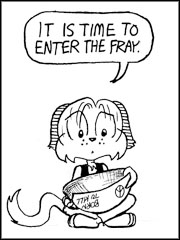 "Everyone is a moon. We all have a dark side." ~ Daniel Distelle
Welcome to Precocious Wiki, a wiki about the webcomic Precocious by Chris Paulsen.
Enjoy Precocious? Feel free to contribute! (Don't worry, this wiki is safe from dynamite...)
Precocious: Because knowledge is a weapon!
What is Precocious?
Edit
Precocious is a webcomic created by Christopher J Paulsen that launched on January 1st, 2009. The comic is about a cast of precocious kids engaging in all sorts of chaotic, wonderful antics. Bud, Autumn, Jacob, and Tiffany manage to combine genius with destruction in almost any situation, whether in their home community of Gemstone Estates or at the Poppinstock Academy for Gifted Children.
The latest chaos
Edit
Ad blocker interference detected!
Wikia is a free-to-use site that makes money from advertising. We have a modified experience for viewers using ad blockers

Wikia is not accessible if you've made further modifications. Remove the custom ad blocker rule(s) and the page will load as expected.