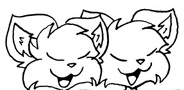 The Et twins are the twin 2-year-old brothers of Tiffany Et. Their sole purpose in life at this stage in their development is to doublehandedly unleash as much mayhem as is irrationally feasible. They are Sky Et's trial by chaos. To date, their names remain a mystery.
---
Ad blocker interference detected!
Wikia is a free-to-use site that makes money from advertising. We have a modified experience for viewers using ad blockers

Wikia is not accessible if you've made further modifications. Remove the custom ad blocker rule(s) and the page will load as expected.