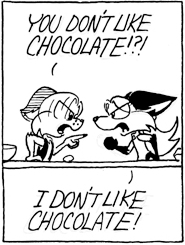 For the individual strip of the same name, see You don't like chocolate!? (strip).
You don't like chocolate!? is a Precocious story arc. It ran in 2009 and consisted of strips #137-142.
Central character(s)
Edit
Bud and Autumn clash over chocolate. Jacob and Tiffany make a wager over the ensuing melee.
Bud wants to bake a pie and suggests chocolate to Autumn, who isn't big on it. Bud is supremely offended, and the two start a raucous brawl. Jacob and Tiffany stand by, commenting and betting on the outcome of the fight as it escalates. The two brawlers ultimately settle on lemon instead, which Jacob dislikes but accepts to avoid a similar beatdown.
External link
Edit
---
Ad blocker interference detected!
Wikia is a free-to-use site that makes money from advertising. We have a modified experience for viewers using ad blockers

Wikia is not accessible if you've made further modifications. Remove the custom ad blocker rule(s) and the page will load as expected.